Immedia SatinSheet 4Direction DrawSheet
For dependent users - combined with SatinSheet 2Direction BaseSheet
When the need is increased, the SatinSheet BaseSheet can be combined with alternative DrawSheets. The Immedia SatinSheet 4Direction DrawSheet reduces friction in all four directions. The dependent user needs help for all repositioning in bed. The SatinSheet 4Direction system is used to reduce the workload on the care giver.
The SatinSheet 4Direction DrawSheets with handles are suitable for single handed care, as it can be used combined with an hoist for turning. This is a cotton/polyester sheet with a satin underside which stay on the BaseSheet and allows movement up and down and side to side.

DrawSheet 4Direction
Add the 4Direction DrawSheet for a dependent user who needs assistance moving in all directions. The DrawSheets are designed to be used on top of the BaseSheet. They do not work on their own.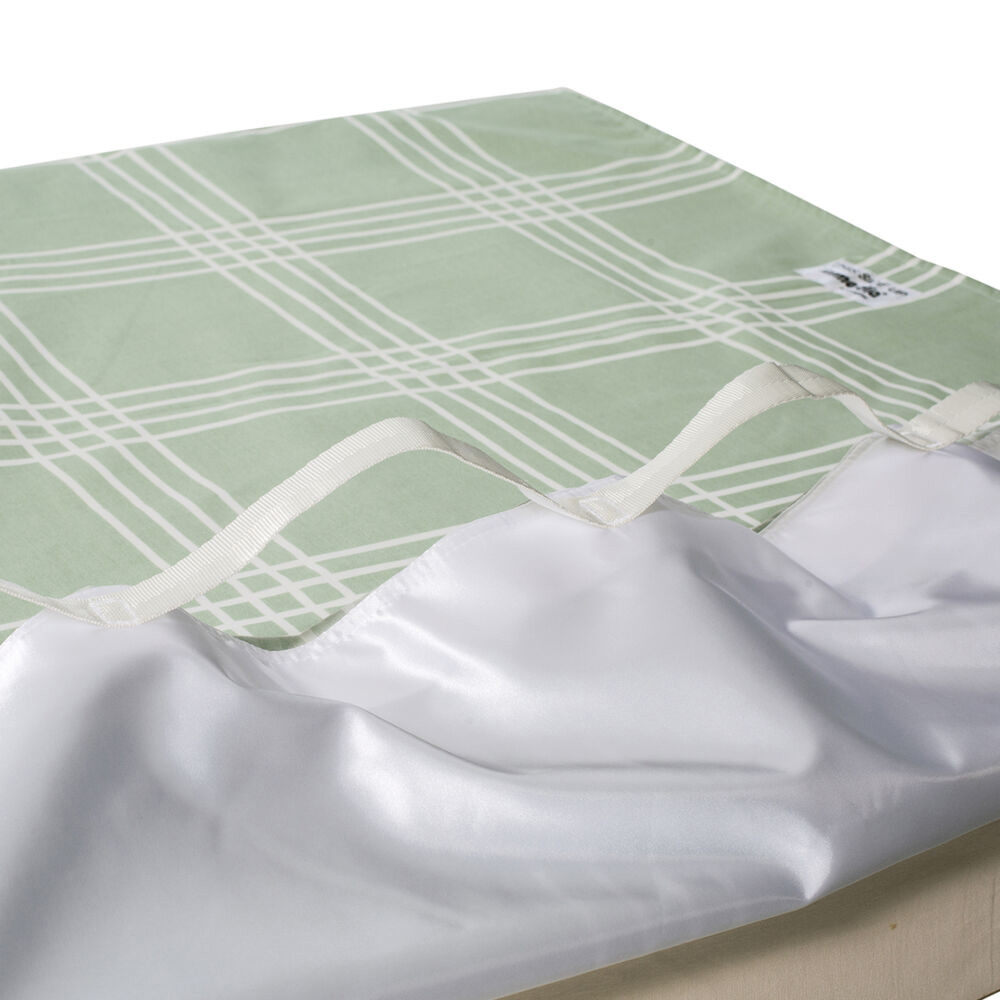 SatinSheet 4Direction DrawSheet with Handles & Wings
The model with handles is suitable for single handed care as the handles can be combined with a hoist for turning. Available in 2 sizes.
Specifications common for all sizes
Material
Fabric: 55% cotton /45% polyester. <br/>Satin: Polyester
Width satin (inch)
57.9
Maximum user weight (lbs)
441
| | Item number | Length (inch) | Length satin (inch) | Width (inch) |
| --- | --- | --- | --- | --- |
| SatinSheet 4Direction - midi | IM4115S | 55,1 | 55.1 | 78.7 |
| SatinSheet 4Direction - maxi | IM4121S | 78,7 | 78.7 | 78,7 |
Do not use fabric softener or bleach.
Documents
Download of user manuals are intended for expedient purpose only. The products in reference may be subject to change without prior notice and reader's discretion is advised to ensure coherence with product version and article number as well as the appropriate translation.
Immedia 4Direction DrawSheet Midi - Transfer higher in bed
How to transfer higher in bed with 4Direction DrawSheet Midi
4Direction DrawSheet Maxi - higher in bed
How to transfer higher in bed
4Direction DrawSheet Maxi - turning
How to turn the patient on the side